Cypher Heck is Bibleman's second sidekick after Coats left. He is a talented musician and singer and also a brilliant martial artist. His armor slightly differs from Bibleman's as it only has the shields on his arms and shoulder guards, also his helmet is only an eye-patch like mask. He originally wore a headset, brown shirt, and camo shorts. After he got armorthe headset remained until Jesus our Saviour. When his armor was upgraded, his Shields of Faith and Shoes of Peace were became silver colored. In the Power Source series he lost the eye-patch completely and now wears a pair of goggles. His real name is Kerry Turner.
Not much is known about Cypher's past except that he used to hang around with a group of people that were not Christians and most likely did non-Christian like activities (smoking, drinking, etc). This may be how Bibleman found Cypher and took him in as his sidekick and close friend. He has been the sidekic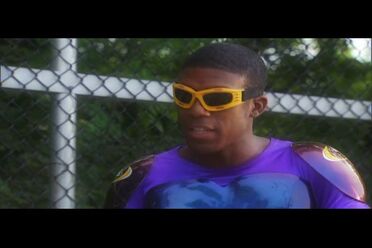 k for bibleman since Conquering the Wrath of Rage.
Personality
Edit
Originally Cypher was cocky, somewhat arogant, and eager to get into a fight. As time went on Cypher became a more serious man and a more serious Christian, he realized when the proper time to fight and when the proper time to be serious. He also has, ADHD, as stated, in the Bibleman: Bible Storybook.
Appearance
Edit
As it was stated earlier, he has been part of the Bibleman since Conquering the Wrath of Rage. He has been part of every episode since then as Cypher. 
Equipment and abilites
Edit
Cypher is an agile gung-ho martial artist ready to leap into action at a moments notice.
Breastplate of Righteousness
Sword of the Spirit (Note: while he called for it in Jesus Our Savior Part 2 his weapons are more like crescent blades, but they have the energy blade at the front end of them.)