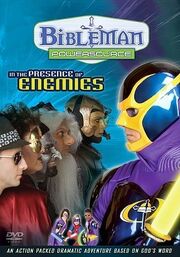 The Cheater is a villain in the powersource series.
Appearances
Edit
He first appeared in Terminating the Toxic Tonic of Disrespect.
Then in "Crushing the Conspiracies of the Cheater" he attempted to get kids to cheat under the guise of 'helping'. After being defeated he tried to help other villains defeat The Bible Adventure Team and lost again.
Abilities
Edit
Swordsmanship.
Card Throwing.
Bellitiler.
A device that allows him to shrink.